Pseudosasa japonica (Arrow Bamboo) at the Taniguchi Japanese Garden, Zilker Botanical Garden, Austin, Texas
For general questions about bamboo contact Kinder Chambers, TXBooGuru

---

The next regular scheduled meeting date for the Texas Bamboo Society is postponed at this time due the coronavirus. Please stay tuned for the next meeting at Zilker Botanical Garden, Austin, Texas. Bring a saw, loppers, hand clippers, gloves, and bungies or cord if you would like to take some bamboo poles home with you in exchange for your labor. Questions? contact Michael 512-484-7477 or Carole 512-906-8250
Members and non-members are welcome! membership info

The Texas Bamboo Society usually meets on the third Saturday of the month. Instead of meeting inside the garden building - we meet in the Taniguchi Japanese Garden at Zilker Botanical Garden and do some maintenance work in the bamboo groves.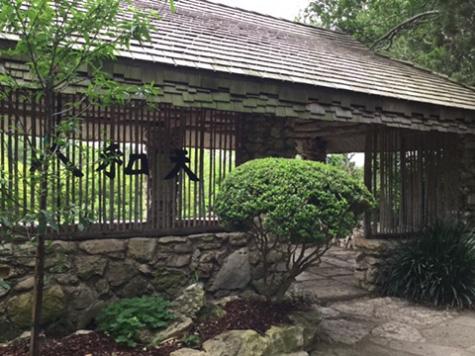 Tea House at the Taniguchi Japanese Garden, Zilker Botanical Garden, Austin, Texas