28th 'Annual' Texas Bamboo Society -November 5-6, 2022
at Zilker Botanical Garden, Austin, Texas
Painting by Sung Cha Brooks
Read about the Taniguchi Japanese Garden - Pseudosasa japonica (Arrow Bamboo) at the Taniguchi Japanese Garden, Zilker Botanical Garden, Austin, Texas
The next Bamboo Grove Grooming at Zilker Botanical Garden is scheduled for Saturday, November 19, 2022 from 9:30 am - 12 noon. The October 15th date is cancelled due to the ACL concert at Zilker Park. The bamboo grove grooming is sponsored by the Texas Bamboo Society Chapter of the American Bamboo Society
Special Instructions:
Zilker Botanical Garden is now open to the public. All visitors must purchase admission tickets in advance on line.

However, if you are volunteering - you will not need to purchase a ticket but you will need to park in the Volunteer area which is by the Bev Shed. If you are not sure where that is here is a description:

Volunteer parking directions: Enter the normal botanical garden entrance on Barton Springs Rd. Follow the driveway around - pass the main building and then you will see another small building that has bathrooms, and then you will see a few orange cones. Take a right at the orange cones and drive down the dirt path. On the left you will see some areas where you can park. There is an old trailer in that area that is commonly called the "Bev Shed". If that area is full - continue driving down the dirt path to the greenhouse area to park.

Do not block any pathways.

You will need to carry your tools to the Taniguchi Japanese Garden.

If you want to park in the regular parking lot - you will need to purchase a ticket - or become member of the Zilker Garden Conservancy which does include reciprocal admission to more than 300 botanical gardens and arboreta across North America through the American Horitcultural Society's Reciprocal Admissions Program.

Normally the Texas Bamboo Society meets in the morning of the 3rd Saturday of the month at the Taniguchi Japanese Garden at Zilker Botanical Garden, Austin,TX and helps to groom the bamboo groves. We ask participants to bring a saw, loppers, hand clippers, gloves, and bungies or cord if you would like to take some bamboo poles home with you in exchange for your labor. Questions? contact Michael 512-484-7477 or Carole 512-906-8250
Members and non-members are welcome! membership info

Instead of meeting inside the garden building - we meet in the Taniguchi Japanese Garden at Zilker Botanical Garden and do some maintenance work in the bamboo groves.

Wondering what kind of saw to bring? here are some suggestions!
---
For general questions about bamboo call Kinder Chambers 254-493-0827
---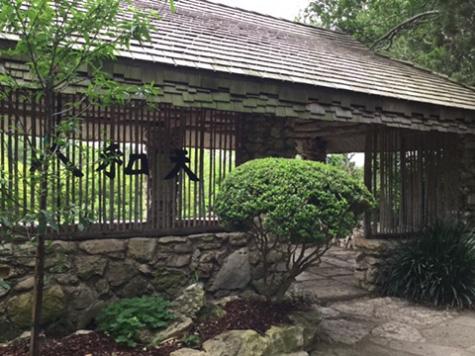 Tea House at the Taniguchi Japanese Garden, Zilker Botanical Garden, Austin, Texas